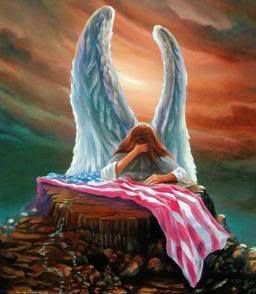 No matter what you think about Alex Jones (and granted, with all his shortcomings) like myself, in this regard at least (and especially in light of the somewhat recent American history) he had these psychopath's M.O. down pat! And he also seemed to understand, that Washington itself is infested. Hence, what I think are some very smart questions that he had asked Deborah Jeane Palfrey for instance, including that one very pertinent question he made sure to ask her (in light of the nature of the case and of her pending testimony in court) that I believe (and obviously turned out to be) very wise; when Jones asked Palfrey if she was considering commiting suicide, and she of course, emphatically responded: "No!" (And Jones was smart enough to get it all on tape). Never-the-less (from what I understand) in a rather short time after this interview, the news story broke out, that Deborah Palfrey had commited suicide! And yet, there are people who actually wonder why there is such a thing as conspiracy theorists. Damn...
"There seems to be a pattern here, in more ways then one. Looks like there's a problem." -FBI, Internal Affairs. "Ya, think?!" -Rational, Sane Person. Only kidding. But not really...
And here, may be at least one reason why the Internal Affairs in the various government agencies may have a problem; being that many credible individuals do believe there is such a thing as: 'The Deep State' or 'Secret Government' - and how their own big money and often pundit lackey influence within the Mainstream Media for instance, has a direct impact on why we almost never get the full truth about certain things, and how it is often even covered-up, and in such a way, to where it becomes like an insult to any critical thinking person's intelligence. 
One such tactic, is known as: Covert Propaganda for example. And I myself felt, that may have pretty much been what was behind the charge for the Special Counsel Investigation and the resulting Mueller Report to begin with, as much of it turned out to be just bullshit (and in this regard, may not have really been about getting to the truth at all) for instance. And hence, why Donald Trump himself, curiously used the words: "Dems and Mueller blew it!" in his tweet regarding Mueller's Testimony before Congress. As he himself learned, that Robert Mueller (who was basically just part of that same establishment, and probably why the Corporate Dems chose him in the first place) especially when he was in charge of the FBI, was a disaster, and had become like a poster child for why the FBI had become notorius for deliberate incompetence, as one can see in this breaking news story, that you will most likely never hear about in the mainstream media, for the very reasons I mention here: FBI Sued for Failure to Report Known 9/11 Evidence... 
For example, what made me suspicious was 2 main things: 1. When they went after Wikileaks, and suspiciously tried to tie Russia with Julian Assange. 2. The fact that Mueller seemed to deliberately avoid investigating the president's finances, or even subpoena his tax returns. Duh! To me, this was like a no-brainer, for what should be obvious reasons. (And especially given the fact, that the Special Counsel did not hesitate to investigate the finances of Paul Manafort for example, to get the convictions they obtained against him. And it definitely seemed to be proven, that he himself did have ties to corrupt Russian Oligarchs!) So my point being, that the same thing is probably going to happen here (for the most part anyway) in relation to the Jeffrey Epstein story, and the related reporting by the Mainstream Media, and quite possibly any "Official" government related report. (Just like in the case of 9/11, and Deborah Palfrey). It IS possible for the truth to still come out, by obtaining records of such investigations though, through The Freedom of Information Act, and through credible, fact finding lawsuits, initiated by honest, ass-kicking attorneys (representing Whistleblowers) and the like, for example (and most likely some kind of witness protection) but that's besides the point. Just my (careful, mind-you) 2 cents worth, for documenting purposes here, and some food for thought, in relation to this particular blog post, if nothing else... 
Here are several very interesting web-posts though, in relation to the Covert Propaganda thing mentioned above: Project Mockingbird. (Although this one is somewhat arguable, at this time, particularly because of its specific reference to Anderson Cooper, and which does not necessarily represent my own views per se', I never-the-less do strongly believe myself, in the link between Major Mainstream Media News Outlets like CNN, MSNBC, and FOX, with the CIA, The Military Industrial Complex, and The Deep State, for what I think are very compelling reasons, that I am not going to get into with this blog post). Here is another excellent article in relation to these things: CNN Refuses to Explain Trump-Wikileaks Email Debacle 
Once again, for whatever its worth, my strong belief in an absolutely necessary foundation, as an effective way in really changing the direction of this country from a virtually unsustainable course of eventual self-destruction is 2 things. And the first is the most important. And probably, most likely, the only way to get to the second thing: 
1. An Amendment to the Constitution to get the dark, dirty money out of Politics - ratified through the States and through a Constitutional Convention. (Probably the best grassroots organization right now attempting to do just that is: Wolf-PAC). 2. Reasonable Term Limits. 
And of course, in the meantime, and to help get there faster, and to stop the bleeding, is to vote for (and support) political candidates who are not bought, and who support and practice in their own campaigns, the public funding of elections...