Vito Masilotti - Singer/Songwriter, Musician, and a few things in-between...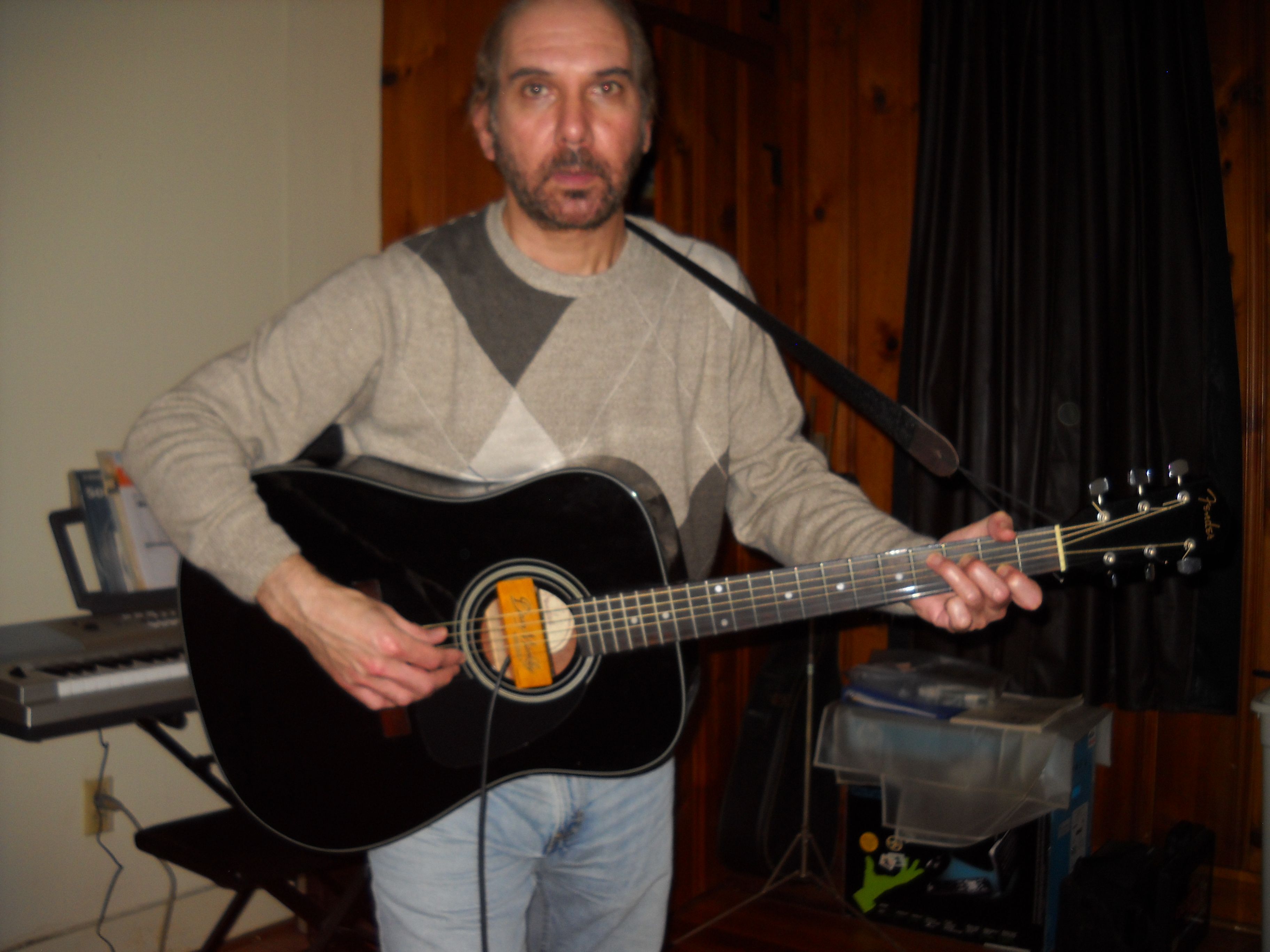 I have always loved composing music, since I was a kid...
It all began when I started taking guitar lessons with my good friend "Steve Miller" (who is a bass player and one of the original members of The New Era Band) when we were about 14 years old, at a place in Lindenhurst, Long Island called, of all things: "Music Land"! Which had become something of a hang-out for all the hip musicians at the time. I was hooked from then on, and had become like a sponge, soaking up everything that I could listen to, learn, or get my hands on.
After about a year of taking lessons, my guitar instructor, Sal (who was till this day, one of the coolest people I had ever met) had informed me that he had just about exhausted everything he could possibly teach me. That's how into it I was!
When I was about 15 years old, I played in my first real, professional band. It was a musical group called: "Phrame". We actually had a horn section, and would play songs ranging from The Beatles to Chicago. We became just about the most sort after band at all the high school dances, and were even booked at weddings and clubs! It was a fantastic early learning experience...
Shortly after I graduated High School, I attended a newly formed school of the arts on Long Island, where I initially learned to play the keyboard, while teaching guitar on the side. As well as, continuing to perform with allot of different musicians and bands. I really started getting heavily into songwriting when I was about 17 yrs old, and couldn't stop! Being influenced by all sorts of music; from The Beatles, (collectively and individually), Motown, The Moody Blues, Deep Purple, The Allman Brothers, Yes, Ambrosia, Kansas, Genesis, Foreigner, and all kinds of Pop music, to Chet Atkins, Elvis Presley, and jazz artists like George Benson, Bob James, Pat Williams,; and even classical composers such as Mozart, Grofe', Debussy, Aaron Copeland, Ralph Vaughn Williams, Edward Elgar, etc.
Being somewhat of a melody freak, I was listening to (and still am), just about everything that was creative, even if it was high energy rock 'n' roll... 
And, being influenced and inspired by so many different composers, I knew I was going to need a new outlet for my addiction to writing music, as I attempted to take my ideas to the next level.
About that time, I started to perform with another very accomplished and respected local guitarist, and one of my best friends of all time: "Dave Randall". Who had also become a tremendous influence on my life at the time, in more ways then one. (In a purely heterosexual way of course. And almost like a big brother).
We also had all these gigs lined up, where we would just love impressing our audience, with not only our own style of songwriting, but with other styles of guitar playing, that just about no one else was doing at the time. I mean, we were performing material, not only by The Beatles, Elvis, Simon & Garfunkel, Yes, Anthony Phillips, Steve Hackett, etc., but were also playing some pretty challenging jazz and classical guitar compositions, as well. We were like some kind of progressive "Simon & Garfunkel"! The music though, I have to say, did lend itself pretty well to the atmosphere of the local wine & cheese pubs, and the like. We had become something of an innovative folk duo, if you will...
I had developed some pretty good "chops" (as they say) during this period; Performing with Dave, teaching guitar, and studying music at college, while developing and refining my own particular style of songwriting. It also became somewhat of a challenge and learning experience, filling in all the gaps, and keeping the sound full, with just our two guitars and vocals...
Now, in my early twenties, another good friend of mine, (who, like Steve, I also knew from my High School days), and a fantastic, self-taught, rock 'n' roll drummer, by the name of: "Dennis Marques", kind a' like, had this dream. Almost, like a "vision", if you will; and a brainstorm of an idea, that he had approached me about. And, which needed a name. So, shortly after that, we created a band that we decided to call: "The New Era". Which, was a name that was originally thrown out there by an uncle of mine. It had become something of a musical entity, that had eventually, sort of like, taken on a life of its own...
Once again, we gained allot of experience performing all around Long Island, developing and refining our own particular sound and style; eventually, playing all original music when we had enough material to cover several sets...
Always learning, growing, and evovling, not only as a musical group, but as individual musicians, and as individual people as well...
Even though, I had eventually relocated to Maryland, with the other two original members of 'The New Era'  remaining back on Long Island, (all of us also working in the secular world, as things would have it, while continuing to live our own lives), I still continued with my passion for writing music, as well as, looking for new, innovative, and creative ways, to showcase my songs and ideas.
I just couldn't keep up with all the material that I had written, was writing, and had accumulated, over time; And felt, that I needed to look for some new avenues to present this material, to the general public...
So now, having my own personal (and public) website, seemed to be something of an obvious, logical, and neccessary next step, to promoting and sharing my music with other like-minded individuals, who are interested enough to listen, share the dream, and get involved; as I attempt to take this thing to possibly the next level...
So, if you like what you hear, (and see), I would invite you (if you are cool), to stay tuned and get involved. (It would definitely be appreciated).
For, the next chapter may be about to begin. And with a little luck, belief, and help, well, who knows...
                                                                                              -Vito Masilotti
                                                                                              (March, 2009)
The Next Chapter continues...