Yep, I had predicted this, and somewhat the timing of it, in regard to Right-Wing Extremists (becoming increasingly unhinged, particularly in relation to the Progressives becoming a significant part of the Democratic party taking over Congress, and that this would particularly piss them off in more ways then one, most likely, resulting in either violence in some way, or some attempt at violence). I know myself, that this particular individual from Maryland is DEFINITELY not alone. Makes ya' wonder, as to why these lunatics are so angry, for no apparent reason. Makes me wonder, anyway. Although, I definitely know their psychology, and how they reason, having lived in that very area of Maryland for instance, where the Feds had traced the source of the anthrax attacks, back in September of 2001, and DEFINITELY got the impression that I was being targeted myself, and that it was DEFINITELY planned! (But that's another story). 
But anyway, here is a link to this particular Domestic Terrorism story in the: LA Times. I have to say though, this is (obviously) an incredibly strange story, one way or the other. For one, the excel spreadsheet of supposedly targeted names is a little odd. Especially, when it includes names like "Don Lemon" (from CNN) for example. Neither here nor there, but I always thought that name was always really strange to begin with. (No offense, Don). Don Lemon sounds exactly like John Lennon for instance! Jesus, that's weird, all by itself. Yea, almost nobody is honest or tells the truth anymore. (Except me, it sometimes seems). Its incredible. Its like the country has gone mad, drank the kool-aid, and lost its mind... 
Okay, here we have some pictures of some pretty deranged lunatics that I downloaded online for interests sake, if nothing else. Ya, know, some of the Mass Shooters, that are strangely common to the U.S. for some reason? (In part, because of our really great law enforcement?) Hmm, let me get a better look at this. O.M.G. I worked with some of these guys! What's going on? Only kidding. But not really. Ya know, what always made me like cynically snicker, is when someone says: "There's no way to tell that these people are dangerous." Are you kiddin' me? These guys look as suspicious as all f*ck! (And NO DOUBT their actions, character, and disposition was the same). Very strange, though. I mean, as incredibly insane as all these (now quite common) mass shootings have become, it kinda' still doesn't make any sense. I mean, it's like suspicious in more ways then one. Because, first of all, no psychopath or sociopath is going to risk throwing their whole life away by all of a sudden, just deciding to shoot a whole bunch of people for no apparent reason, unless something is in it for them. And/or something else is going on. (Because, personality types like this, are usually very sneaky, and cowards to begin with, and will usually try to set somebody else up before taking the blame themselves, unless something went wrong). And I have to say, some of these shootings DEFINITELY look staged in some way. No doubt about it. So the individuals ultimately behind it all, have to be some seriously sick motherfu*kers themselves. Some kind of rogue operatives, in some way? Could very well be, because I've seen this kind of psychological profile before. (The mortgage and financial industry for one, generally speaking, often loves to hire individuals who are psychopaths and sociopaths to begin with, and so hiring people with this type of personality type for example, would DEFINITELY not be out of the question. Hence, my joke about them looking familiar. And hence, the mortgage crisis during the last decade). I GUARANTEE, someone was pulling at least some of these freaks strings in some way, for whatever sick reason. Because, any other explanation just does not make any kind of sense. AT ALL! And I think I know what it is myself, but just not going to say it here. Whew. What a country. Look at these guys, man. Are you kiddin' me? Are you trying to tell me, law enforcement could not see that something was wrong and suspicious with at least some of them? Yea, I don't know man. Very weird...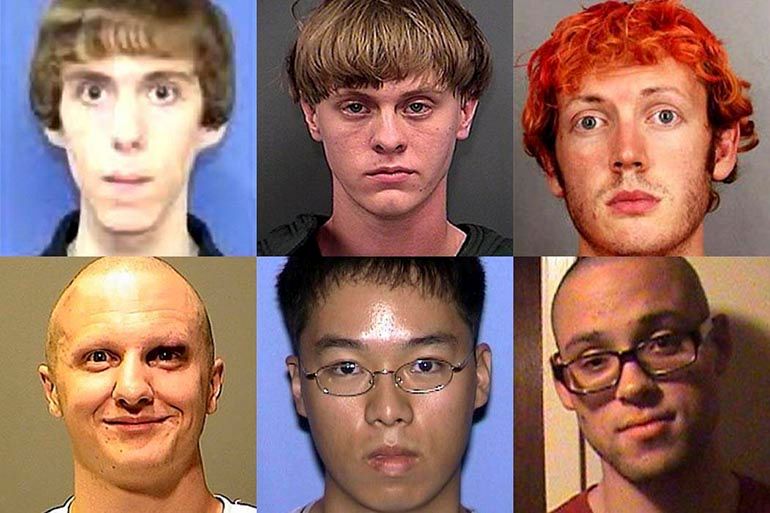 Hmm?                                              Oh, yea...
And I guarantee, not one of them are Bernie Sanders supporters. Call it a lucky guess...
Yep, its complicated. It always is. Ever wonder why allot of these freaks (like some of these Mass-Shooters, like the Klebold brothers, for example) like to wear some kind of paramilitary attire? I have... 
"President Kennedy fired Allen Dulles over this. And then Dulles oversaw the muder investigation - The Warren Report..." -hoya03 (YouTube Viewer)
VERY interesting scene from: The Long Kiss Goodnight. One of my favorite action flicks of all time, and INCREDIBLY prophetic... 
Also, a case in point. And hence, just some food for thought regarding the 'Rogue Operative' theory (I mention above) as just one scenario; when Military/Defense spending hits the roof, and becomes like the largest slice of government spending, by far! ALWAYS be suspicious of individuals who talk about cutting social safety net programs like Social Securiy for instance, especially, while expanding the military budget at the same time; and suspicious wars, like the one in Afghanistan, and then talk about austerity for everyone else! 
And similary, ESPECIALLY be suspicious of things that simply do not add up. In other words, if someone has like blown the whistle on allot of this kind of shit (which of course, would be seriously criminal shit to begin with, and implicate allot of people, and therefore should be of interest to law enforcement to begin with) if their motives were honest and sincere, why wouldn't they confide in that person directly? Unless something else was going on? (I know what I mean). For instance, the Richard Jewell story, is sorta' like a perfect example of that type of seriously dysfunctional, deceitful (and deliberately incompetent) psychological profile in itself, if you know what I mean? Too deep... 
But once again, EVERYTHING is relative. (One way, or the other). Albert Einstein himself, proved that theory; scientifically, but no less true, and self-evident...